Here's part 2 of my
Christmas Carol Rants
series of blog posts! This time around, dedicated to "Do You Hear What I Hear?"
You can read part 1 here: "
Baby It's Cold Outside
".
Disclaimer: This is a rant about a popular Christmas carol. You may not be able to enjoy this Christmas carol again after some of the things you'll read.
Note: I still enjoy most of these Christmas carols even though I find parts of them absurd.
I don't have too much to say about "Do You Hear What I Hear?" but the fact that it seems to be every radio station's go to Christmas carol the last few years is more than a little distressing (there's so many better ones out there!).
At first, DYHWIH sounds like nothing more than the worst game of
Telephone
ever.
Seriously, they go from the story being that there's a star, then it's a song, then it's a child, then the child is the savior of the world. Lost in translation much?
So we have this shepherd boy that can speak and understand animals, but somehow is able to get an audience with the king. I imagine he is able to do so strictly because of his animal whispering talents.
So Dr. Doolittle takes his story straight to the king to tell him all about the child shivering in the cold, and he is arrogant beyond belief. Or at least, that's how he comes off to me. Here's this peasant that does nothing more than herd sheep, with this AMAZING talent, but what does he do with this talent? Herd sheep! Some people have no ambition in life...but in spite of having no ambition, he sure puts the warm, mighty king in place. Letting the king know that he doesn't know as much as some pissant peasant.
It's OK though, because the shepherd boy is apparently a dullard. His solution to the child being cold is to bring him silver and gold. Because THAT will make him warm. WAIT! MAYBE HE'S YUKON CORNELIUS!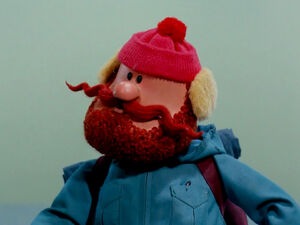 But wait, there's more. Search your mind for what KING this peasant child could possibly have gained an audience with.
WAS IT HEROD THAT YOU'RE TELLING ABOUT THE CHILD SHIVERING IN THE COLD?
HASN'T ANYONE EVER TOLD YOU THAT SNITCHES GET STITCHES LITTLE SHEPHERD BOY?!
So the
Massacre of the Holy Innocents
wasn't the Magi's fault, it was this moron's!
At least we got the Coventry Carol out of it I suppose:
Although that doesn't have quite the same feel as DYHWIH as sung by Carrie Underwood:
So that's enough ranting for now about this particular carol. Did I miss anything that drives you mad about this tune?
Next time I may tackle "I Saw Mommy Kissing Santa Claus", but there are so many things I can't stand about that song that it will be a long one.
Here's the lyrics as posted by A to Z lyrics for Carrie Underwood's version:
Said the night wind to the little lamb
Do you see what I see
Way up in the sky little lamb
Do you see what I see
A star, a star
Dancing in the night
With a tail as big as a kite
With a tail as big as a kite

Said the little lamb to the shepherd boy
Do you hear what I hear
(do you hear what I hear)
Ringing through the sky shepherd boy
Do you hear what I hear
(do hear what I hear)
A song, a song
High above the trees
With a voice as big as the sea
With a voice as big as the sea

Said the shepherd boy to the mighty king
Do you know what I know
(do you know what I know)

In your palace warm mighty king
Do you know what I know
(do you know what I know)
A child, a child
Shivers in the cold
Let us bring him silver and gold
Let us bring him silver and gold

Said the king to the people everywhere
Listen to what I say
( Listen to what I say)
Pray for peace people everywhere
Listen to what I say
(listen to what I say)
The child, the child
Sleeping in the night
He will bring us goodness and light
He will bring us goodness and light

He will bring us goodness and light